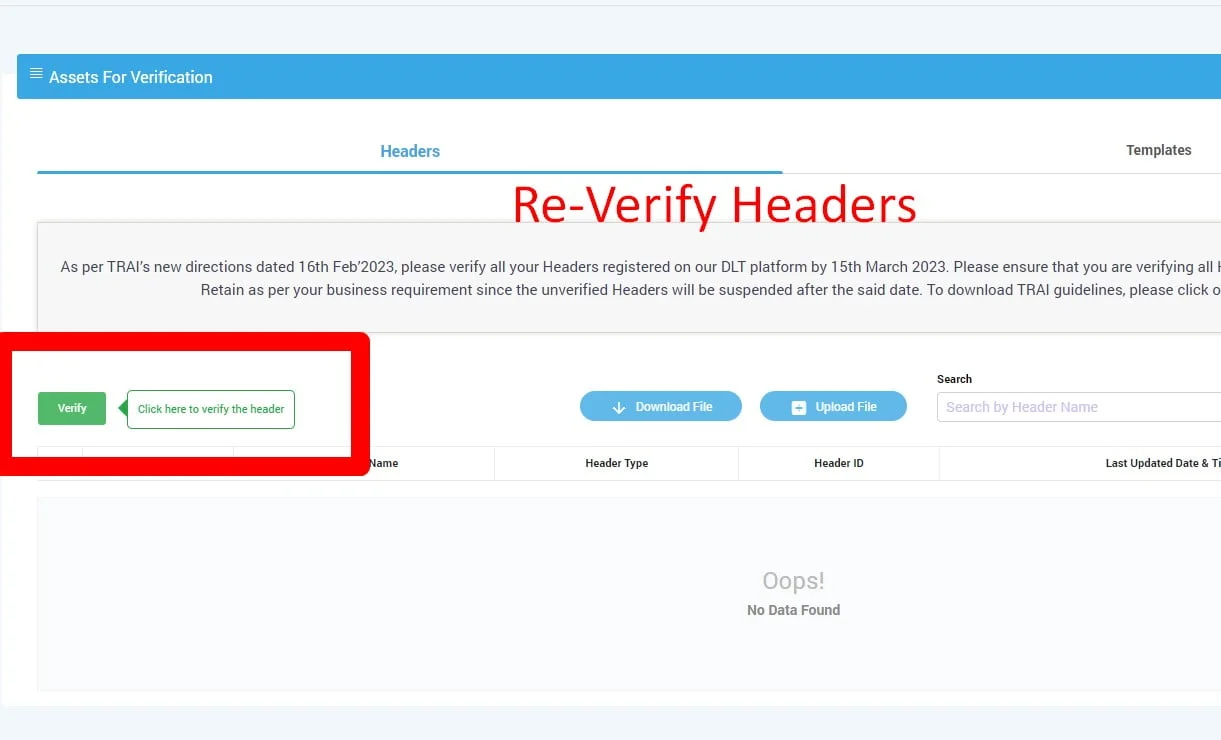 As per the latest guidelines issued by the Telecom Regulatory Authority of India (TRAI) and DLT Platforms, the process of Header and Template Re-Verification has become mandatory for all businesses operating in India that use SMS or Voice messages as a mode of communication with their customers. This is to curb the misuse of Headers and Templates which can be used to send spam messages or messages with misleading content.
The process of Header and Template Re-Verification is a simple one, which requires businesses to follow a few steps. Here's a step-by-step guide to help you verify your DLT Headers in India:
Step 1: Login on DLT platform, such as Vodafone Idea, Jio, or Airtel.  ( How to Verify Headers )
Step 2: Check all approved headers and templates. Then click on verify button.
Step 3: Re-Verification After approval, businesses need to periodically re-verify their Headers and Templates. This is to ensure that the Header and Template continue to comply with the TRAI guidelines, and that they are not being misused for sending spam or misleading messages.
Download this PDF for more information about Re-Verify Headers & Content Templates- Download 
As per TRAI's new directions dated 16th Feb'2023, verify all your Headers registered on our DLT platform by 15th March 2023. Please ensure that you are verifying all Headers which you are only intending to Use / Retain as per your business requirement since the unverified Headers will be suspended after the said date.
To download TRAI guidelines, please click on Link of TRAI directions
Conclusion: DLT Headers and Templates are an essential part of any business that uses SMS to communicate with its customers. The new norms regarding Header and Template re-verification introduced by TRAI and DLT platforms will help to curb the misuse of Headers and Templates. By following the verification process mentioned above, businesses can ensure that their Headers are verified and