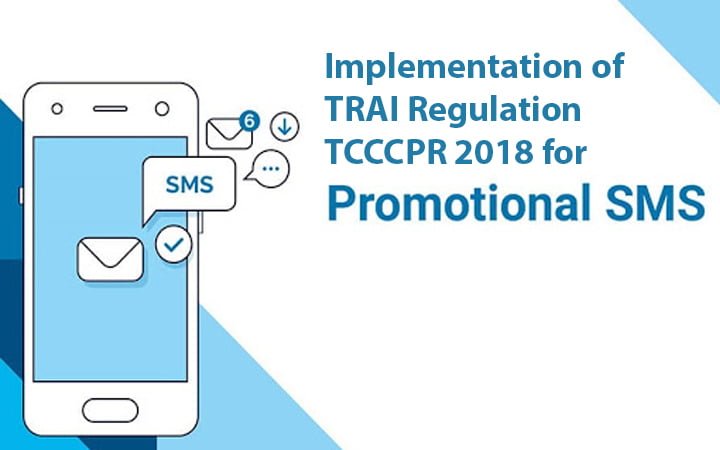 Implementation of TRAI Regulation:
The first phase of DLT regulations which lived from Jun 2020 required your business and headers (Sender IDs) to be registered on DLT portals. The subsequent phase of DLT regulations requires you to feature content templates within the DLT platform and send only messages that match these templates.
Without the required template approvals at anybody of the DLT portals post-implementation, your SMS is going to be blocked by telecom operators.
Some Highlights to be considered:- 
From 1st June 2020 onwards traffic of only DLT registered headers would be allowed by the Telecom operators.

TRAI Regulations decided a time band from 21 hrs – 10 hrs, between this time band, SMS will be default OFF irrespective of customers registered for DND or not chosen any time band. Promotional SMS will be delivered between 10 am – 9 pm IST, to comply with the above guidelines of TRAI.
As part of the DLT go live, operators will stop supporting delivery notifications for messages sent via Promotional routes with Numeric headers. No DLR's for promotional traffic from 9th Oct 2020.
Only DLT registered customers will be able to send SMS using the NUM header for promo and ALPHA header for transactional SMS.
This has regard to the implementation of TRAI Regulation TCCCPR 2018.
Delivery Receipts are not any longer provided by operators for promotional sends. Delivery status for all promo SMS submitted to operators is going to be shown as 'Sent' / Pending initially and altered to 'Expired' thanks to lack of Delivery Receipts.
According to the regulation, TSP's are instructed to take care of the confidentiality of the end customer's information like preference and consent. In line with the implementation of an equivalent the Telecom Service Providers have unanimously agreed to prevent sharing Promotional DLRs from October 7th,2020 for SMPP/API Promo and Enterprise Routes.