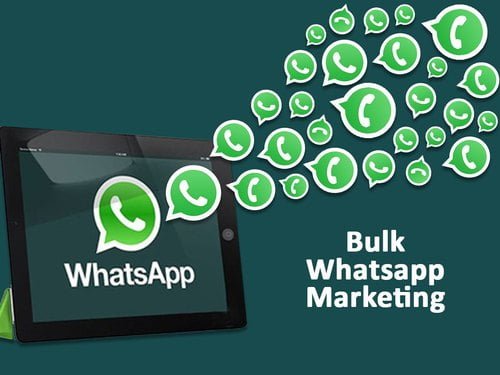 WhatsApp Marketing is the popular name for the activity of sending bulk messages over the instant messaging app: WhatsApp. Well, not over the app exactly but through composite applications, you can buy online.
This practice emerged as a result of WhatsApp's anti-spamming policy which limits messages sent to only 5 contacts at a time. If you have tried sending a normal seasons' greeting message – say "Happy Easter" – to all your WhatsApp contacts; you would find a limitation once you've linked up to 5 contacts at a time. You would have to resume a fresh tag of 5 contacts before sending again.
So we have these composite apps flying here and there allowing you send beyond 5 messages at a time; some allow up to hundreds even thousands of contacts! Apps like GB WhatsApp, JT Whatsapp, WASender among others. Some of these apps even send back a log to the user reporting successful and failed messages.
A quick look at how WhatsApp bulk messaging works might help you understand better:
Buy and download a WhatsApp composite app though .apk files
Install the app in your phone
Fed WhatsApp's contacts to the composite app
Type a message (images and videos can be attached) and send
The system would send your message to all contacts fed into the app
As expected, WhatsApp bulk messaging has gone viral worldwide with some promoters branding it a new cost-effective to reach more customers. With over 200 million monthly users, India is WhatsApp top market – as well as promoters of WhatsApp Marketing.
While there is no denying the brilliance of WhatsApp bulk messaging, there are some repercussions to this. For starters, WhatsApp could ban phone numbers discovered to be sending these bulk messages. The practice simply goes against WhatsApp's anti-spamming policy and Term of Service.
Worst than that, WhatsApp announced that from December 7, 2019, it will start taking legal action against people and companies that violate its Terms of Service by, say, sending automated or bulk messages, or engaging in "non-personal use".
What really bugs is WhatsApp's statement to take action even if an entity merely made public claims of an ability to abuse its platform. This simply means you risk litigation by WhatsApp by just claiming to have sent bulk messages over the app. Until now, WhatsApp has only taken action against abuses for which it had found evidence on the platform itself.
In summary, here are the pros and cons of WhatsApp bulk messaging:
Pros
It is a cost-effective way of marketing
It allows you send a whatsapp message to hundreds of contacts at a time
Images and videos can be attached to messages
Some composite apps sends back a log report
Cons
Sender could be banned from using WhatsApp
Sender directly violates WhatsApp Term of Service and risk formal legal action from WhatsApp Inc
Receivers may report your message as spam
There are better ways to reach more people or customers for less. With bulk SMS, you can reach thousands of recipients in minutes. The best part is, recipients don't have to rely on the internet to receive SMS and you would not be breaking any rules; just as far as recipients are subscribed to your SMS campaign. Try SMSexperience bulk SMS service today.